Many of us love styling our hair in alternative ways and dying our hair crazy colours, but unfortunately work doesn't always allow us to do that. Along with piercings and tattoos, a lot of bosses deem bright and wacky hairstyles too unprofessional for the workplace, as they may intimidate the customers or give off a more 'casual' vibe than they'd like. But just because you can't have bright green hair at work, doesn't mean you can't stand out! Here are different hairstyle ideas for you to consider for the office.
(Of course, please CHECK WITH YOUR BOSS before you attempt to dye your hair any of these suggested colours. While many companies will be totally fine with these, some places tend to be stricter than others!)
1. Fringe braid hair
Braiding your fringe is a great way to achieve a funky look without actually changing your colour or cut. There are plenty of tutorials on YouTube showing you how to do this. Here's one to start you off.
2. Red-violet dye
If you're looking for an unconventional hair colour but don't want it to annoy your boss, try a nice burgundy shade with tones of both red and violet. This gorgeous colour will look like a nice maroon indoors but will appear brighter in the sunlight. Try L'Oreal Casting Creme Gloss in a cool Cherry Red.
3. Pin-up style
The pin-up hairstyle is bold and daring, but also stylish enough to impress your colleagues and your customers. Here's a tutorial on how to get a quick and easy pin-up look.
4. Purple tips
This one definitely depends on the kind of place you work at. If it's a more casual environment then bleach the tips of your hair and applying a lovely dark purple shouldn't be an issue. Try Directions Plum.
5. Angled fringe
No one can fault you for having an angled fringe. It's the ideal way to say "I'm alternative" without crossing any boundaries. Simply find a cut you like and take it into your hairdresser.
6. Pretty Pixie
A pixie cut is both cute and professional, especially in this stunning red colour. It is also one of the most practical cuts, especially if you happen to work in the food industry. There'll be no stray hairs from you, that's for sure!
7. Faded pink ombre
Subtle pastel dyes are now becoming mainstream, so there are many offices that would allow this gentle colour. If you're unsure, go for the faded ombre look by mixing the dye with conditioner to dilute it.
8. Blunt bangs
A sharp, heavy fringe is a brilliant way to make a statement without compromising your career. It's also really easy to maintain and looks great with every hair colour!
9. Super short hair
Not only is this haircut completely acceptable, it also makes you look totally fierce!
10. Subtle undercut
A small shaved area on the side of your head gives you an edgy look, without being too "out there", especially if the shade of your hair is close to your skin colour, as then it blends in better.
11. Faux undercut
If you don't want to shave your head, how about a side braid which gives the illusion of an undercut. Get the "know how" here!
12. Hidden undercut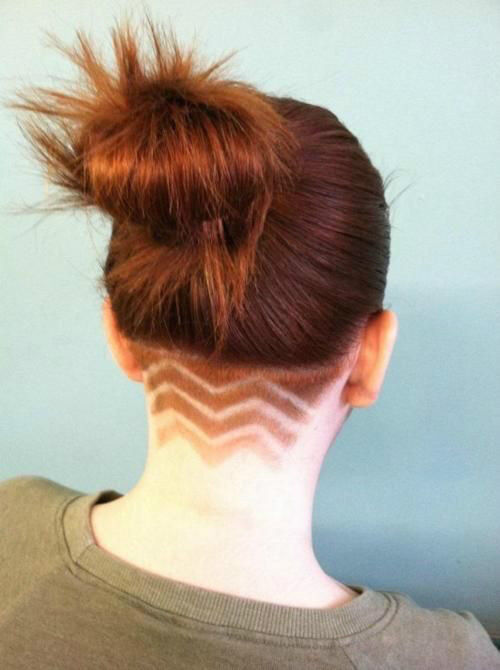 This hairstyle has been making waves over the past year or so, and it's absolutely genius! As long as you keep your hair down, no one will ever know you have a cool shaved pattern underneath your locks! 😉