We can all get a little gaga over our pets. They are, after-all, our little furbabies. We indulge them, buy them gifts and spend more on their food than you do on your own.
Celebrities, however, can take this animal love to the extreme spending thousands of pounds on their pets. They take them round the world on their private jets and even create social media pages in their honour. It can all be a be a little surreal.
Here are 15 celebrities who are obsessed with their pets:
1. Taylor Swift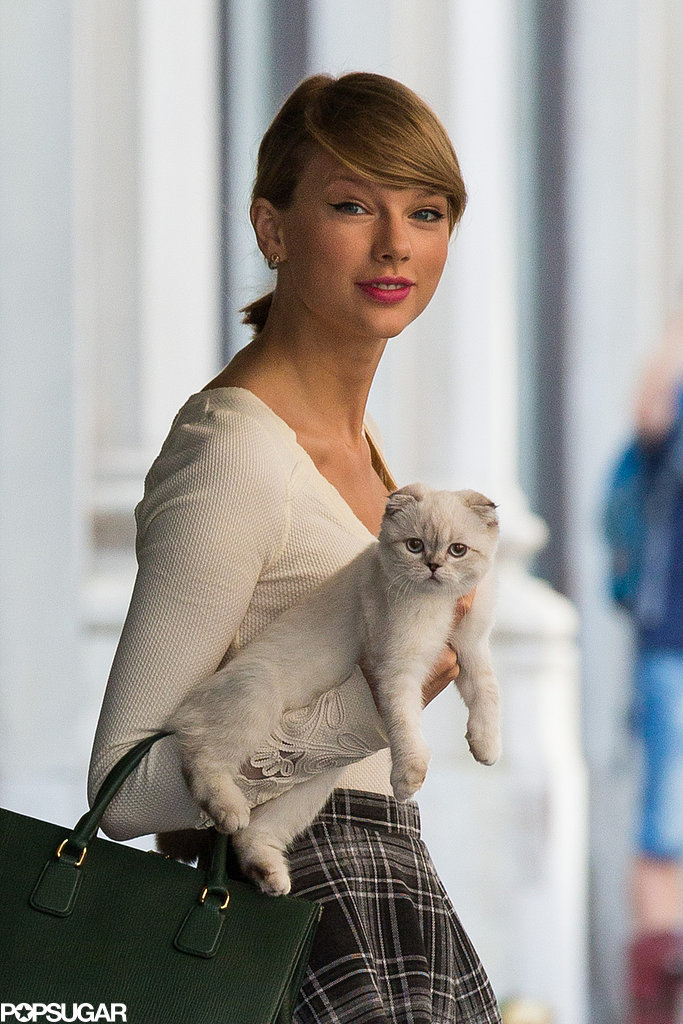 Taylor Swift has two cats – Olivia Benson and Meredith Grey – which she is obsessed with. She carries them round on her outings, takes them on her private jet and, yes, they do have their own Twitter accounts.
Even Swift's new boyfriend Calvin Harris has become a cat man, he's started posting videos of Meredith on his own Instagram.
2. Miley Cyrus
Yes, that's right. Miley Cyrus owns a pig called Bubba Sue. Just as wild as her mummy, Bubba Sue recently posed with a naked Miley Cyrus on the cover of Paper Magazine.
3. Dwayne 'The Rock' Johnson
He may be perceived as a tough wrestler turned actor, but Dwayne 'The Rock' Johnson is also a big dog lover. And just like daddy they are fitness doggies too. The Rock has previously posted videos of his dogs on treadmills.
4. Amanda Seyfried
Amanda Seyfried is open about the fact she considers her pooch as her son. Finn is a rescue dog and appears to have found the best mum in the world. This picture of them together is adorable.
5. James Franco
There's something very adorable about a cat man. Funny man James Franco is cat daddy to two felines called Sammy and Zelda. Apparently the star talks to his cats when he's sad.
6. Ricky Gervais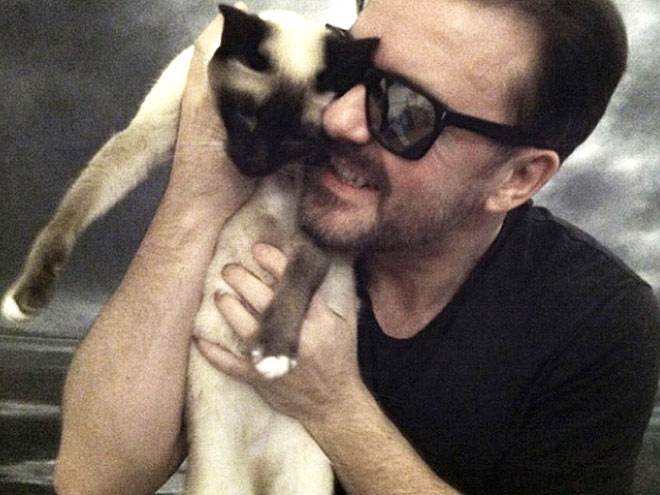 Talking of cat men, meet Ricky Gervais and his gorgeous feline Ollie. Gervais frequently posts social media updates which feature his cat and the pair have had magazine interviews together.
7. Paul Wesley
How adorable is Paul Wesley and his cat Cat? Yes he did indeed name his cat Cat. Even more adorable is that Wesley rescued Cat when he saw him shivering under a car during winter.
8. Kaley Cuoco
Unlike her character Penny in Big Bang Theory who forgot she had a goldfish, Kaley Cuoco is a massive dog lover. She's pictured here with two of her pit bulls.
9. Lady Gaga
Lady Gaga's dog, Miss Asia Kinney, is a celebrity in her own right. Not only does this pooch have her own social media accounts, she's also just landed her first big modeling campaign with Coach.
10. Ryan Gosling
Like all people obsessed with their pet, Ryan Gosling can talk for hours about his dog George. He thinks George is much more interesting than him.
11. Katy Perry
The pop signer has two cats – Kitty Purry and Krusty. Just like our other celebs, Miss Perry loves her pets and has even featured them in lyric videos to her songs.
12. Carrie Underwood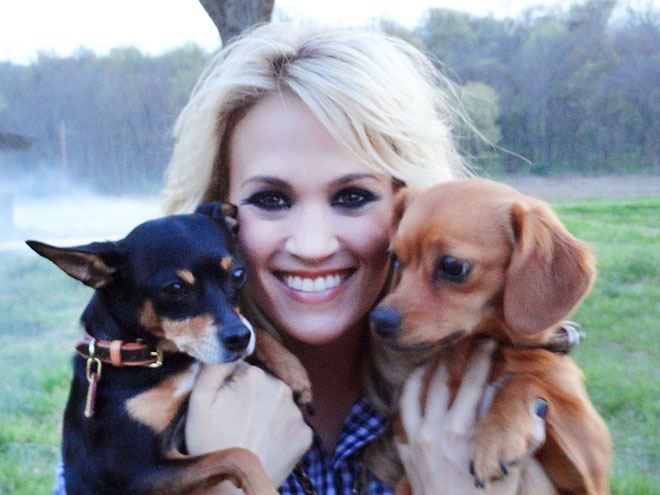 Carrie Underwood's adorable pooches, Penny and Ace, always go on tour with her. She even checks into dog-friendly hotels to ensure her dogs are always by her side.
13. Kelly Clarkson
Kelly Clarkson isn't just a music lover, she's also a dog lover. Here she is with her dog Wyatt when he was just a puppy.
14. Julianne Hough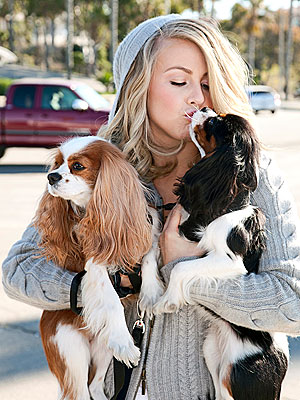 The Dancing with the Stars champion is also the owner of two doggy winners. Her King Charles Spaniels, Lexi and Harley, are never far from her side.
15. Paris Hilton
It was Paris Hilton who started the celebrity trend of carrying round tiny pooches with her Chihuahua Tinkerbell. Sadly the pooch, who was almost as famous as her owner, passed away this year age 14 leaving her owner devastated.