Rosie the Riveter is one of the most influential female icons in the world. Originating in a song written 1942, Rosie was invented to support and encourage employed American women in World War II. It was easy for female workers during this period, since they were expected to manage both their job and the housework when they returned home. This inspired graphic artist J. Howard Miller to create the iconic 'We Can Do It!' poster to boost worker morale. The representation of a woman wearing a spotted red bandanna with overalls while flexing is now regularly used across the media as a representation of feminism and equality. For this reason, many celebrities have tried to emulate the image and we have the best ones listed right here!
Beyonce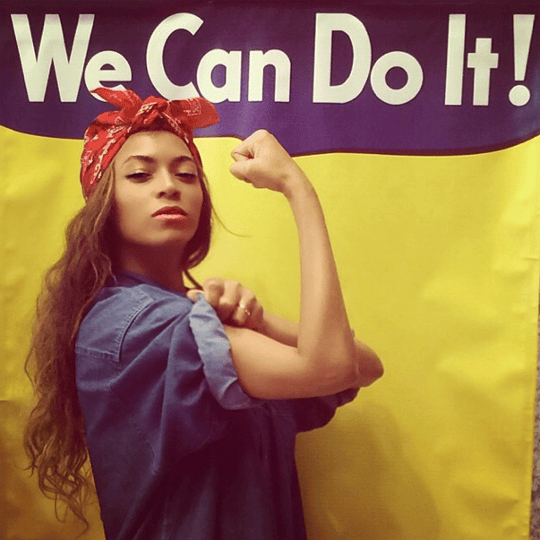 Ms Knowles-Carter posted this snap Instagram back in 2014. She imitates the 'We Can Do It!' poster with a paisley red bandanna and denim coveralls. The photo received over 1 million 'likes', proving that women's liberation is something we're all striving for!
P!nk
P!nk used the image in her music video for 'Raise Your Glass', an empowering pop-rock song for the 'underdogs' of the world, which encourages people to celebrate their differences. P!nk is known for her love of fitness, and as you can see by her bicep muscles, she carries the 'strong woman' look off beautifully.
Christina Aguilera
Xtina gave the pose a stylish twist for her 'Candyman' music video. She swapped a blue denim shirt for a trim orange blouse, reflecting the song's vintage-yet-modern vibe. She looks amazing, plus those curls are to die for!
Amy Poehler
Poehler's character Leslie Knope dressed as the classic poster for Halloween in an episode of Parks and Recreation. She pulls it off so well, we bet there'll be loads of you dressed like this at your next costume party!
Kelly Rowland
The Destiny's Child beauty got her 'Rosie' on back in 2010, which caused some to believe that Beyonce stole the image. But we're not about pointing fingers and think both ladies rock the feminist look perfectly!
Kris Jenner
Kris Jenner struck the pose as a part of her campaign for women, but not in the way you'd expect. She actually used it to promote Poise incontinence products, since the Kardashian mother has been upfront about having bladder leakage problems herself!!
Alexis Bledel
The Gilmore Girls actress looked very sophisticated as she posed for Glamour magazine's 'Icons Issue'. The high-waisted denim and cute red bow makes it look like she's ready for a day out shopping rather than out on the workforce.
Demi Lovato
Demi Lovato has always been an outspoken woman so it was expected she'd take on this impersonation sooner or later. She captioned the Instagram pic "Gettin' stronger everyday Be good to your body, and your body will be good to you ❤️❤️❤️."
Marge Simpson
Our favourite cartoon mother put her housework aside for one day to show us that she too 'can do it'! This picture was drawn for Utne Reader magazine as a way to motivate economical and social change in the American workplace.