Japan is a creative and colourful country that has always been ahead of it's time. It is known for bringing us unique inventions and discoveries such as anime, martial arts, Playstation and Nintendo. But there are some inventions that have yet to make it to the Western world, and frankly we're missing out! Here are the most eccentric, yet genius ideas that would make all of our lives better.
1. Beer Slushie Machine
No, you're not dreaming! Japanese beer company Kirin Ichiban just invented the Frozen Beer Slushie Machine and it's absolutely glorious! As far as we know the machine doesn't turn the entire drink into slush, just the froth. But let's face it, the froth has always been the most annoying part of the beer anyway so it's the ideal invention! We're really hoping this comes to the West in time for the summer, and just think how amazing it will be to watch a game with a frothy, icy, slushie beer in your hand!
2. Inflatable Bath Pillow/Phone Holder
We live in a time where we constantly need to be in arm's reach of our phones. Luckily, this has been possible in nearly all scenarios of our life – except for in the bathtub, since the risk of dropping it in the hot water was just too high. But all of that is about to change with the inflatable-bath-pillow-slash-phone-holder!
3. Table Blankets
Sometimes, you just want to stay in bed all day, but that's not always possible when you have to get up and reach for things like food, drinks, books etc. But a genius in Japan invented the "kotatsu", which is large heated blanket attached to a low table frame which rests nicely on top of your bed or couch. The kotatsu has been around in Japan for years now, so why in the world have we not seen them anywhere?!
4. Potato Chip Grabber
The Crisp Hand Grabber Picker Upper deserves more credit than it get's. When you're grabbing a crisp, your fingers get covered in salt or cheese etc (depending on your flavour preference). The Crisp Picker Upper is Japan's answer to clean hands and a funny crisp-eating experience!
5. Eye Drop Funnel Glasses
If you use eye drops for either eyesight problems or just to clear redness and itchiness, you know that 4 times out of 5 you're going to miss your eye entirely. These funnel glasses may look silly, but if we were totally truthful you know how useful they'd be to us!
6. USB Heated Lunchbox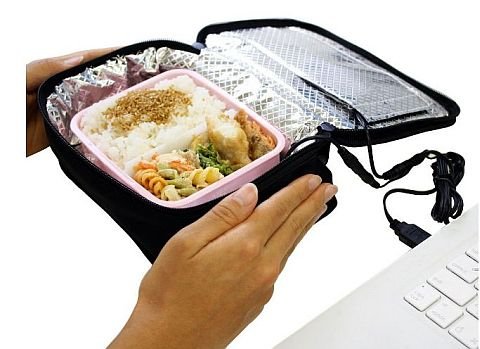 Okay, now this is brilliant! The computer powered heated lunchbox allows you to eat while you work, without worrying your lunch is going to get cold. This is ideal for those who don't have a microwave at work or home, and it means you can now take hot dinners out with you instead of a boring cold sandwich!
7. Never-Ending Bubble Wrap
Don't act like you're not excited about never-ending bubble wrap. This nifty little gadget stimulates the feeling and the sound of popping those plastic bubbles, and the best thing is, you can do it for hours on end! This satisfying invention is so powerful, it has to ability to wipe standard stress balls off the planet!
8. Sound-Catcher Pillow
Never again will you utter the words "what did he just say?" when watching a TV show. With the sound-catcher pillow you will be able to hear ever single word, footstep and creak of the door on your favourite show, while keeping your head comfortable and relaxed. Surely, this is going to be on everyone's Christmas wish list this year?
Baby's don't do anything to help around the house, but that's all about to change! With the baby floor-cleaner onesie, your child can now pull it's weight and repay you for all the feeding, nappy-changing and burping you do for it! Simply pop it on your baby, place it on the floor and watch it go!
10. Shoe Umbrellas
This is probably the most practical invention on this list. Women can now protect their feet from getting wet without compromising their style. The umbrellas are incredibly versatile can be detached and reattached to whatever shoe you like. Whoever invented these is clearly a millionaire by now, so they're probably pretty busy, but if you happen to this, we'd like these in our country, thanks!