Growing up in the "noughties" gave girls a lot of choice when it came to fictional role models. Some wanted to be just like Cher from Clueless or like Sandy from Grease – sweet, conventionally beautiful, and always wishing to be part of the "popular crowd". Others wanted to be just like the sidekick, the badass, the outcast – the girl who didn't conform to traditional norms and stood up for what she believed in!
1. Janis Ian
Mean Girls taught us that being 'plastic' gets you nowhere, but being yourself gets you everywhere! Janis Ian was a bold and outspoken "art freak" who wasn't afraid to tell her friends when she thought they were acting fake. When someone insulted her, she was ready to attack with a biting comeback that leave you speechless for days.
2. Carmen Cortez
While most teenage girls were worrying about makeup and boys, Carmen Cortez was out saving her parents from being turned into Floop's "Fooglies"! As one half of the Spy Kids, she had a cynical yet caring attitude, and she also taught us to swear without actually swearing. Oh, shiitake mushrooms!
3. Clarissa Darling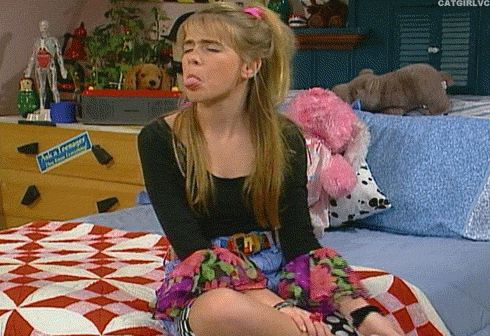 When Clarissa Explains It All hit our screens we thought it was going to just be another preppy girl with the usual high school troubles, but we were wrong! Melissa Joan Hart's portrayed the title character as smart, feisty and independent with an enviable style. Plus she had friends that climbed through her window using a ladder when they could just as easily go through the front door, so she gets extra cool points!
4. Rizzo
Let's face it! When it came to Grease, you either wanted to be Sandy or you wanted to be Rizzo. Tough and sarcastic, Betty Rizzo may have come across as a little mean at first, but we soon learn that she's just as fragile as the rest of us, as we saw in her song 'There Are Worse Things I Could Do'.
5. Ashley Banks
When Ashley reveals in The Fresh Prince of Bel Air that she wants to trade her ballet and violin lessons for the drums, we knew there was something special about her. Ashley wasn't like the rest of the Banks family and didn't care too much about money or material possessions. She was more grounded and rebellious just like her cousin Will, and that's why we loved her!
6. Miranda Sanchez
Miranda was like a more censored version of Janis Ian. She had a punky sense of style and always kept her best friend Lizzie McGuire on the straight and narrow, reminding her that it was more important to be true to your own goals rather than getting in with the "IT crowd". How right she was!
7. Nancy Downs
Okay, so Nancy was utterly crazy and didn't use her powers with great responsibility, but that didn't stop us from wanting to be just like her! As the anti-hero from The Craft, she was aggressive and ruthless, but she probably had to be that way with the upbringing she had. The point is, Nancy reflected the dark side in all of us, even if she did let magic consume her in the end.
8. Jane Lane
Daria was cool, but her best friend Jane Lane was a step above the rest. Her sarcastic humour and artsy nature gave up the upper hand when it came to surviving senior school. No one dared mess with her which meant no one approached her, and that's just how she liked it.
9. Hermione Granger
Those who say Hermione Granger isn't a badass need their head examined! She could have easily spent her school years keeping her head down, perfecting her grades and pining after boys. Instead, she risked her life time and again to save the ones she loved and used her intelligence for something much more useful than simply her studies.
11. Spinelli
Recess's Spinelli was a fantastic role model for all the tomboys out there! For a start, she was the only girl in the school named 'Ashley' who wasn't a spoiled, fashion-obsessed snob. She loved to wrestle and would challenge anybody claimed to be tougher than her. It just goes to prove that being small doesn't mean you have to be weak.
12. Wednesday Addams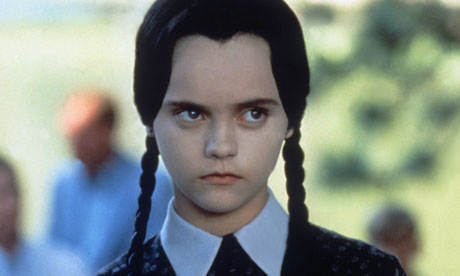 Sadistic tendencies aside, Wednesday from The Addams Family was the perfect role model film for anyone who felt like they didn't fit in. From her, we learned that looks can be deceiving, and that girls who are constantly chipper and bubbly with a rosy complexion aren't always nice. Yes, she had a dark and gloomy personality, but she also had more depth than all of the girls in 'Camp Chippewa' put together.
13. Buffy Summers
It wasn't easy being Buffy. A lot of the time, she just wanted to be a normal teenager, but instead she be on vampire patrol every single night for bloodthirsty vampires – and that was after a long day of high school! But when she busted out those kickass moves and placed that stake in those demon's hearts we forgot about all the stresses and strains that came with being a slayer. We just wanted to be her!
14. Missy Pantone
Missy from cheerleader chick flick Bring It On was a hardcore badass in every way! The idea of jumping up and down in a miniskirt yelling "go team go!" wasn't satisfying to her, but once she whipped out her die-hard gymnast moves the Toros were begging her to join them. She may have been cheeky, but she kept it real and wasn't about to steal someone else's routine, even knowing they would have gotten away with it.
15. Mary-Kate Burke
They were Two of a Kind, but they had very different personalities. While Ashley Burke was into fashion and boys, her twin sister Mary-Kate was a sporty tomboy who liked to watch action movies. She didn't have any girl friends because she didn't relate to girls that age (apart from her twin of course!).
16. Kim Possible
If Buffy Summers fell into a 2D parallel universe, grew her hair and dyed it red, she would be Kim Possible! Kim didn't fight zombies though, she fought crime! She saved the world on a regular basis while most of her school friends were oblivious. She was driven, ambitious and smart enough to know what really matters in the world – friendship!