Most of us are lucky if we manage to enjoy a week-long vacation in a three-star hotel once a year. It's hard to believe there are people out there willing to spend thousands a night just for a short stay in luxury accommodation. Let's take a look at the 10 most costly hotel suites that will cost you more than an arm and a leg.
10. The Palms, Las Vegas
Gambling isn't the only way to lose money on the Las Vegas Strip – staying at the two-story Sky Villa suite in The Palms will charge you at least $20,000 (£13,700) a night! The room lends itself to a breathtaking view of Paradise, Nevada and includes a living room, dining room, five bathrooms, two master bedrooms and two salon suites. The villa is popular with celebrities, including Britney Spears who reportedly entertained former boyfriends there!
9. Hotel Connaught, London
We know that London is an expensive place to live, but it's an even more expensive place to 'vacay' in, especially when you're staying at The Apartment suite in Hotel Connaught. Situated in the heart of Mayfair luxury, it will cost you £16,000 ($23,500) per night to take advantage of it's naturally lit suite with panoramic balcony, four poster bed, double height-ceilings and feature fireplace.
8. Burj Al Arab, Dubai
Dubai is an immensely popular holiday spot for it's sunny beaches and glamorous shopping malls, so it's expected to knock you back a little in the funds department. No one, however, would expect to be paying $24,000 (£16,500) a night for the Royal Suite at Burj Al Arab! Located on the 25th floor, it offers stunning, uninterrupted views of the island, along with two master bathrooms, Jacuzzis, a 24 carat Gold iPad, library, cinema room, use of the private beach and much much more!
7. Hotel Cala di Volpe, Porto Cervo in Italy
In the picturesque village of Costa Smeralda, the Hotel Cala di Volpe sits beside a beautiful emerald sea, but it comes as a price. For $26,000 (£17,800), you can stay in the Presidential Suite which comprises of three bedrooms, two lounges, a sauna and a private swimming pool!
6. Mandarin Oriental, London
London's most expensive hotel room resides inside the Mandarin Oriental and will knock you back £18,000 a night! The Royal Suite may be the closest thing you get to spending a night in Buckingham Palace, with real silk curtains, a private butler, a balcony over Hyde Park and bathroom made entirely out of marble!
5. Grand Resort Lagonissi, Athens
You'll be shelling out £24,000 (£35,000) at the Royal Villa suite at Grand Resort Lagonissi. Complete with two master bedrooms, large marble bathrooms, fully-fitted grill kitchen, massage area and private beach access, this Greek sanctuary favoured by the likes of Leonardo DiCaprio and Mel Gibson!
4. The Hilltop Estate Owner's Accommodation at Lacula Resort, Fiji
At £27,500 a night, you'd hope to be surrounded by complete luxury, and that's certainly what you'll get at The Hilltop Estate in Fiji! The entire apartment is designed to replicate a rainforest and opens out into a private coastline. Perfection!
3. Four Seasons, New York
It's one of the most famous hotels in the world, so it is no wonder the Four Season hotel has a room that goes beyond the reach of the average man. It's Ty Warner Suite will have you forking over $45,000 (£30,800) a night so that you can enjoy its artistic glass balconies and extravagant furnishings. The floor-to-ceiling windows will give you a more beautiful view of Manhattan than the Empire State Building itself!
2. Raj Palace Hotel in Jaipur, India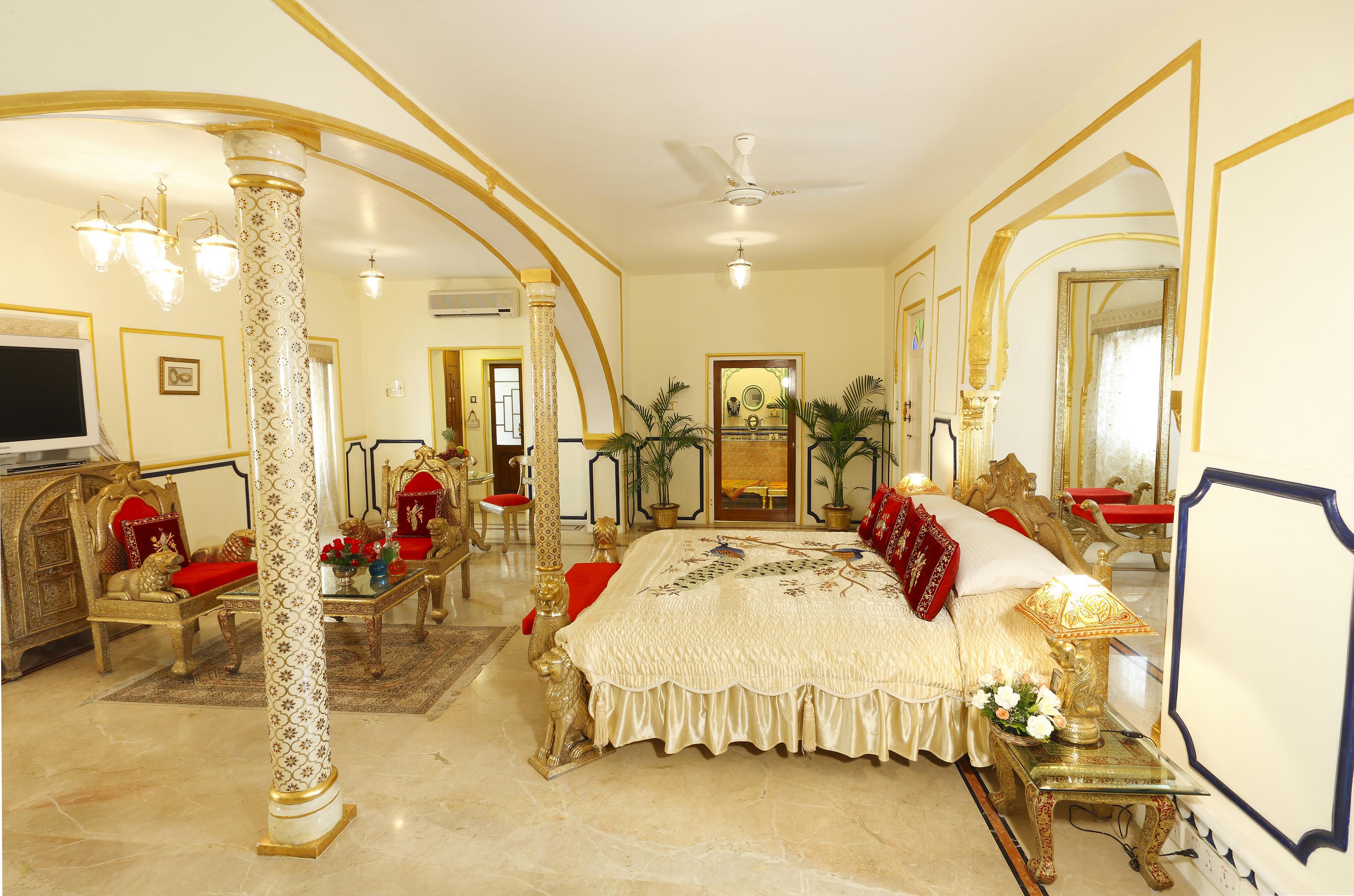 If you want to ensure you have the best possible stay in India, stay at the Raj Palace Hotel's Shahi Mahal Suite for £30,800 ($45,000) a night! The apartment is designed to look like a palace so you'll certainly feel like royalty with its antique statues and colourful furnishings.
1. Hotel President Wilson, Geneva
Finally, we have the most expensive hotel room to date – the Royal Penthouse Suite in Hotel President Wilson will set you back a whopping £40,000 for every night you spend in it! Why so extortionate, you ask? Well, the apartment is one of the largest in Europe (1'680 sqm in total) and takes up the entire eighth floor. It boasts 12 luxury bedrooms, marble bathrooms, mirror TV, Steinway grand piano, a collection of ancient books and a private gym. Amazing!
Which hotel do you want to spend a night in? Share your thoughts in comments below!