Anyone who has mourned over a dead pet knows that it's a difficult topic for anyone to swallow. Most of us will identify with the pain of losing a dog or cat as if we've lost a member of the family – famous celebrities are no exception to this grief. There are many stars who have publicly shown their sadness for the passing of their beloved animals.
Hilary Duff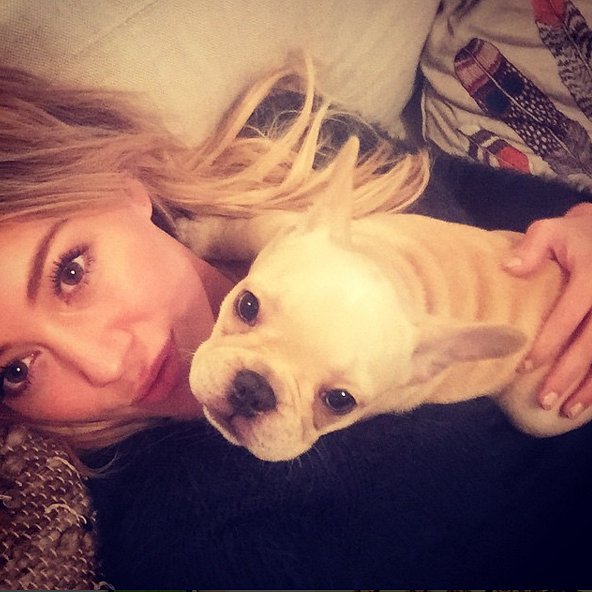 The former child-star lost her beloved French Bulldog Frenchie Beau in January 2016. The pooch was regularly featured in her Instagram feed and it was clear she was distraught by his sudden demise:
"It's really true that we never know what the day will bring us," she wrote in an Instagram post. "I am shattered in a million pieces today because my baby Frenchie Beau has gone to doggy heaven this afternoon. I'm sure I will post way too many pictures of him this week but as of now I can't ever bear to look at a photo of his little face that melted me every time. I can't fathom never holding his heavy little head in my hands with his two big eyes looking at me again."
P. Diddy
In April 2014, P. Diddy revealed his golden-haired dog HoneyCombs had died and that he was finding it hard to accept it:
"Today was one of the saddest days of my life. I said goodbye to my dog Honey. Who was always there for me. #RIPHoneyCombs love you and you are missed already."
In another post, he stated "GOODBYE MY FRIEND!!!!! #HoneyCOMBS RIP! To whoever has lost a Pet I feel your pain! I thank GOD for givin me a friend like you !"
Miley Cyrus
When Miley lost her dog Floyd to a coyote attack, she could hardly contain her misery, even breaking down on stage during her Bangerz world tour. She first broke the news via Instagram:
"I don't wanna say it because I don't want it to be real… But my precious baby Floyd has passed away. I am broken."
Shortly after, Miley also lost her blowfish Pablow. It upset her so much that she even wrote a song about it, which then turned into the album Miley Cyrus & Her Dead Petz. 
Ashley Greene
The Twilight actress was 'inconsolable' after she tragically lost her fox terrier Marlo in an apartment fire in 2013. The blaze was caused by a candle left unattended while Ashley, her boyfriend and her brother were home at the time. Greene had another dog Theo, who luckily survived the event, but her home was destroyed in the process.
Demi Lovato
Demi Lovato was left heartbroken after her Bichon Frise Buddy was horribly killed by coyotes in August 2015. She took to Instagram to express her, and her boyfriend's, sorrow:
"We can't thank you all enough. This has been the most painful week of my life but because Wilmer and I had so much love and support, I've been able to stay strong and will continue to get through this difficult time. The out pour of love and support has been unbelievable and it means the world to us. Love you all tons and ton…"
Kim Kardashian
Kim Kardashian's Persian kitten Mercy was only four months old when she lost it to a 'cancer-like virus' in December 2012. The feline was a gift from her now husband Kanye West, but unfortunately it wasn't long before she started to get sick. Kim posted an obituary on her personal blog:
"My heart is completely broken. Mercy was a gentle and loving kitten and we are all going to miss her so much."
Kelly Clarkson
In November 2013, Kelly Clarkson grieved for her black poodle mix Joplin who she adopted just two years before. She took to Twitter to share the sad news:
"My best friend died yesterday. Joplin was special. He fought his whole life to survive & now he can rest. I loved him."