On the happiest day of your life, when all eyes are on you, you want to look your absolute best! For celebrities, this is even more important as the whole world is waiting to see what kind of gown they'll wear. Some manage to pull it off, while others fail miserably. If you're looking for wedding dress inspiration, or you're wondering what NOT to do, take a look at these famous dresses that will go down in VIP history!
Ashley Tisdale
Ashley married rocker husband Christopher French in 2014 and opted for a gorgeous princess ballgown, which she complemented with a lovely floral headdress and loose curls. Her bridesmaids, including Vanessa Hudgens, looked equally stunning in pink and purple toned off shoulder dresses.
Portia de Rossi
Ellen Degeneres married her soulmate Portia de Rossi at their Beverley Hills home in 2008. Portia wore a stunning halterneck ballgown with a soft pink tinge, while Ellen looked suave and sophisticated in a crisp white suit. What a good looking couple!
Kelly Clarkson
Kelly Clarkson's marriage to Brandon Blackstock resulted in a glorious rustic-style wedding with Kelly looking heavenly in a fitteed lace gown with bell sleeves, while her hair was tied back into a pretty low bun.
Jessica Biel
Justin Timberlake and Jessica Biel finally tied the knot in after five years of dating. Jessica said "I do" in a unconventional, yet ravishing pink strapless dress with a ruffled skirt and floor-length veil. Justin is one lucky man!
Cheryl
Cheryl's first marriage to English footballer Ashley Cole seems like forever ago, but no one could forget that breathtaking gown she wore. Designed by Robert Cavalli, the cream silk dress was sleeveless with a sweetheart neckline, and embeliished with Swarovski crystals. How glam!
Princess Catherine
Princess Kate Middleton's dress was one of the most famous and most talked about wedding gowns in the world. Designer Sarah Burton took the traditional A-line style and gave it a modern twist with delicate lace sleeves and deep V-neck.
Hilary Duff
Hilary called upon Vera Wang to design her a contemporary mermaid styled wedding dress with a sweeping train. She completed the look with an elegant updo, which I'm sure her then husband Mike Comrie, along with all of their guests found absolutely beautiful.
Avril Lavigne
When it comes to unorthodox weddings, you either love them or hate them. In Avril Lavigne's second marriage to Nickelback's Chad Kroeger, she dared to wear a gothic black dress from Vera Wang's 'Divorce Collection'. Coincidentally, Avril filed for divorce from Chad in September 2015, but least she got to look utterly captivating on the day!
Christina Aguilera
As you'd expect, Xtina went all out when she married first hubby Jordan Bratman in 2005. She opted for a tight-fitted Spanish gown with a ruffled trumpet-styled train. The designer, Christian Lacroix, created the dress for a sum of £30,000, ensuring the superstar was the bell of the ball.
Victoria Beckham
Can you believe Victoria and David Beckham have been married almost 17 years? Perhaps Victoria's striking wedding dress has something to do with it (rumour has it she still keeps it in her closet)! Posh Spice has always had a thing for fashion, and it shows in this glorious cream-ivory gown with a scooped neckline and an impressive chapel train.
Now for the worst…
Drew Barrymore
You'd think a dress designed by Chanel would be something spectacular, but in Drew Barrymore case, it wasn't so. When she married Wil Kopelman in 2012, she wore a muslin gown with an embroidered skirt and ruffled collar. She intended to go for a "timeless" dress but instead ended up looking a little frumpy.
Mariah Carey
When Mariah married Mottola, she wanted her dress to make a huge statement. Unfortunately, it was a little TOO huge and made her look like an oversized marshmallow with puffy satin sleeves. At least by the time her second wedding, she had a better fashion sense.
Dita Von Teese
A wedding involving Marilyn Manson and Dita Von Teese was always going to be outrageous, but we thought the blushing bride would go for something a little more graceful, like her usual 1940s attire. We get that Dita was trying to look 'alternative' with her purple dress but instead she looked like something out of Willy Wonka and the Chocolate Factory!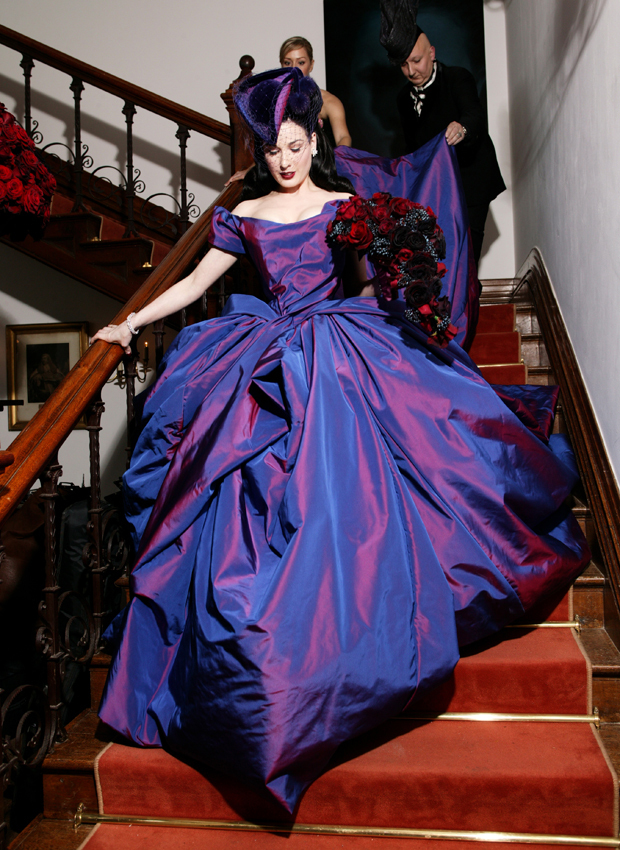 Katie Price
Finally, we have possibly the worst bridal gown of all history! Katie Price wanted to look like a princess when she married singer Peter Andre, but her pink glitter ballgown, giant crown, and over-the-top makeup turned the wedding into a bit of a joke!