The Brit Awards have done it again! Last night, we saw a show full of dynamic performances, heartwarming speeches, glorious fashion moments and a brilliant tribute to David Bowie (well done, Lorde). But most importantly, there were plenty of slip-ups, which, if we were being honest with ourselves, is what we really want to see from live TV. So without further ado, let's take a look at the biggest bloopers at the Brit Awards 2016…
1. When no one knew which way to face.
Award-winners James Bay, Tame Impala and Coldplay all began their acceptance speeches facing away from the TV audience, as they struggled to figure out where the camera was. Perhaps next year they'll put arrows on the stage floor to avoid this awkward error.
2. When James Bay thanked his brother, "Lucy".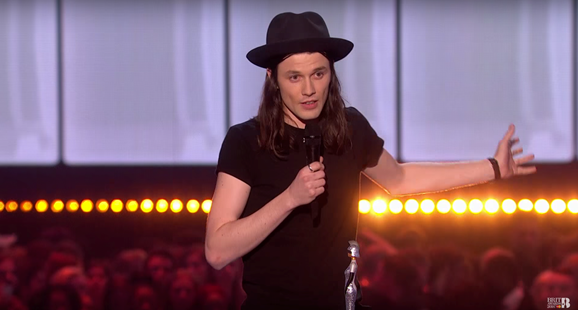 James Bay was a bit of a fluster when he was awarded Best Male Solo Artist. During his 'thank you' speech James thanked "his brother Lucy" which sent the audience into confusion. It turns out he simply got the names mixed up – his brother is actually named Alex, and James' long-term girlfriend is called Lucy. Bet she wasn't very impressed!
3. When Adele nearly fell over.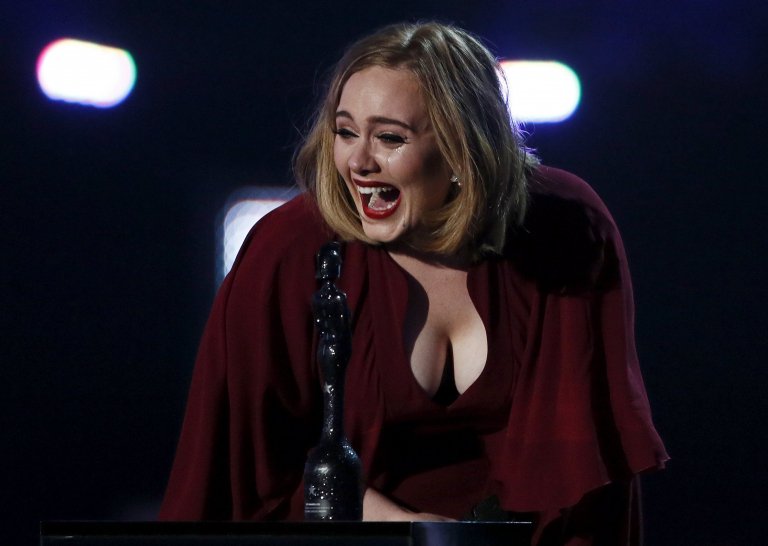 Adele won and bagged an amazing four awards last night, but she almost didn't make it to the second one! On her way to accept her Brit for Best Single, she screamed "I nearly fell over!" in her thick cockney accent. At least she didn't do a Madonna!
4. When Father John Misty didn't work on his 'gracious loser face'.
Father John Misty taking losing to Justin Bieber well then #BRITs pic.twitter.com/vnVe4imn59

— Rory Phillips (@Rory_Phillips) February 24, 2016
Father John Misty lost Best International Artist to Justin Bieber and he wasn't very happy. He was caught on camera pulling a sad expression with his eyes to the floor when the winner announced. Or maybe he was just playing Candy Crush…
5. Ant and Dec's not so funny 'man in a dress' gag.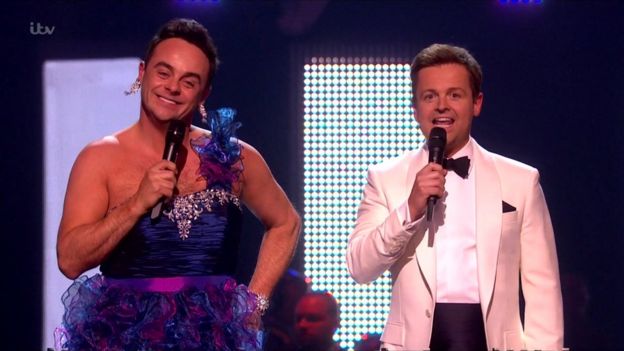 As much as we love the Geordie duo, most of us would have to admit the gag where Ant turned up on stage in a woman's dress was a little lackluster. A man wearing women's clothing is hardly a funny subject matter these days.
6. Adele's foul mouth.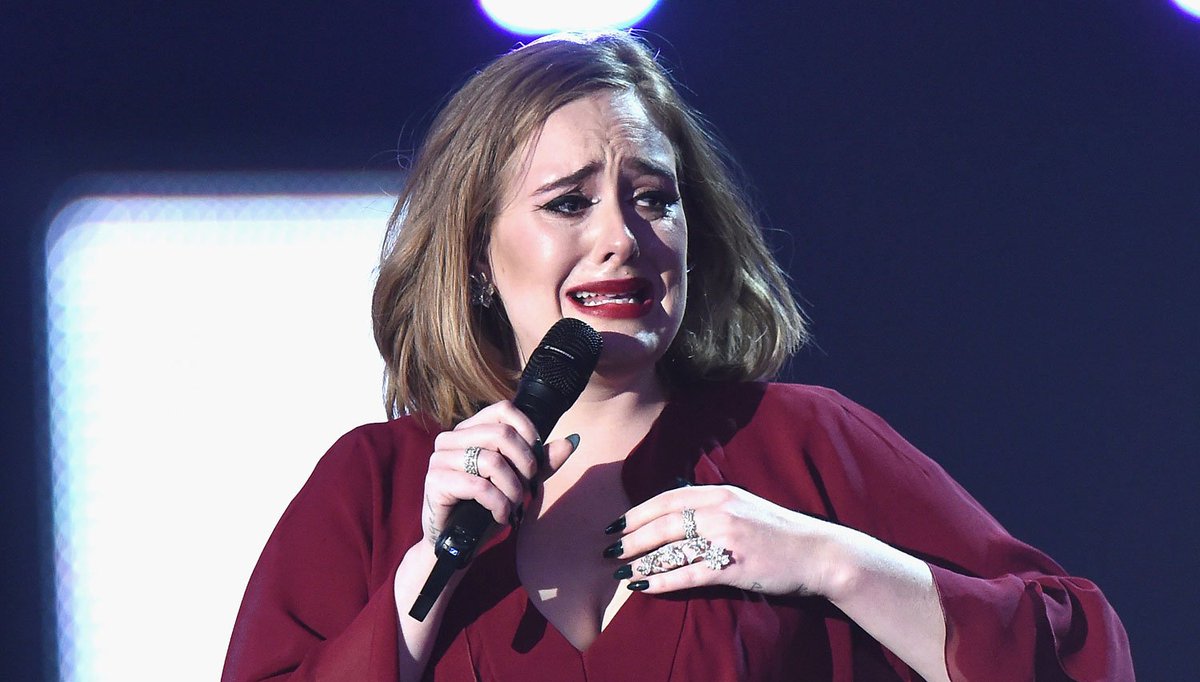 Once again, she stole the limelight but this time it wasn't for good reasons. Adele mistakenly blurted out the F-word when she went to claim her third accolade and unluckily, the man in charge of the bleep machine missed it entirely. The good thing is, Adele got the chance to apologise when collecting her fourth and final award.
7. When Bjork wasn't there.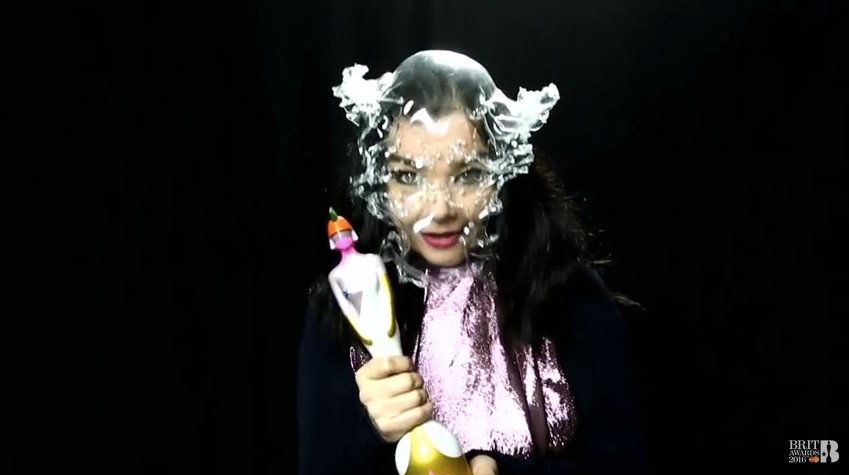 Bjork rightfully won Best International Solo Artist 2016, but unfortunately she couldn't be there to accept the award in person. Luckily, she had recorded a 'thank you' message, but when the camera panned over to her, she looked like she was halfway through the ALS Ice Bucket challenge! Seriously what the hell was that thing on her face?
8. When Bieber set the stage on fire…literally.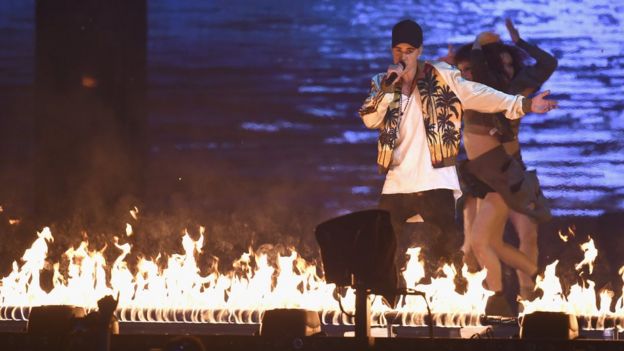 Sure, it looked impressive but the audience must have been bricking themselves throughout his entire performance of 'Love Yourself' and 'Sorry'. Even host Dec joked about setting the fire alarm of as he wafted a towel in the air.
9. Jess Glynne's uncontrollable hair.
Jess Glynne looks like the posh one from the Wallace and Gromit movie #BRITs2016 pic.twitter.com/Pj9fLusEP5

— Bets (@BettyCallaghan) February 24, 2016
It's a surprise Jess Glynne didn't topple over during her medley performance, as she appeared to carry most her her weight on top of her head with an impressive red perm! As it goes these days, her louder-than-life hairdo was the butt of many a Twitter joke.
10. Kylie's bizarre gown.
What was Kylie's stylist thinking, letting her walk on stage in what can only be described as a backwards-maternity dress?! Unless she's had another set of major butt implants, there is no sound reason to wear such an atrocious gown.