Cosplay conventions are a great way to allow gamers, TV fanatics and anime lovers to show-off their creativity and express love for their favourite franchise. But some of these costumes are so bad, that whoever made them needs to go back to school and learn a thing or two about sewing and textiles.
1. Tried to be the Silver Surfer but came out looking more like the Tin Man.
2. Look! We understand you're on a budget, but paper plates, a bucket and sandals are NOT good enough materials to make a Stormtrooper costume.
3. I wonder how many vulnerable people Jynx successfully converted that day.
4. When you want to be Wolverine, but you're worried about getting your 5-a-day so you throw a banana into the mix for good measure.
5. Don't do drugs, kids. Dipsy did… and these are the results.
6. If you don't have a sewing machine for your Iron Man cossie, just cover yourself in sellotape. No one will notice, honestly.
7. This is why you don't host a convention next door to a stag party.
8. This guy knew his Sonic was a little off, so he kindly wore a t-shirt with the hedgehog's face on it to show us what it should have looked like. How nice!
9. Okay, the guy on the left gets a D for effort, but the woman on the right looks more like she's about to go on The Purge.
10. Not sure if this dude is either a colourblind Hulk, or a Smurf who's let himself go.
11. Think she's confused Alice with the Queen of Hearts here.
12. Because Thor never went anywhere without his Linkin Park CD's and tin of baked beans.
13. Why go to the gym when you can just draw your abs on with a Sharpie? No one will be able to tell the difference anyway.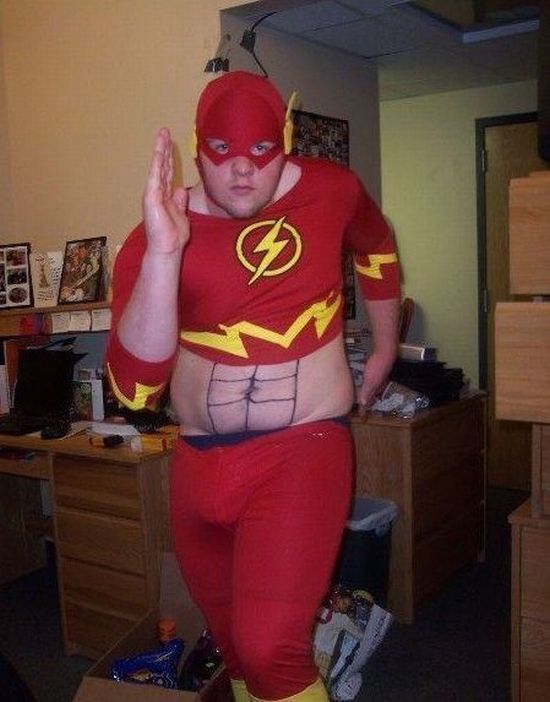 14. This is what nightmares are made of!