There are two people in this world; dog people and cat people. If someone says they like both, well….they're lying! Here are twenty stereotypical differences between canine chauvinists and feline fanatics.
1. Dog people treat dogs like their children.
2. Cat people attempt to treat their cats like their children…with poor consequences.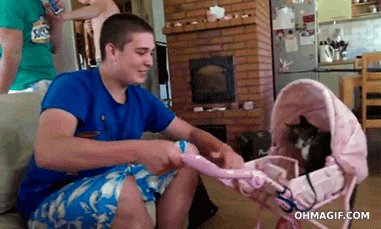 3. Dog people are forced to be socialites, making new friends every time they go for a walk.
4. Cat people are hermits who fills with panic every time someone knocks on the door.
5. Dog people don't mind sharing their food.
6. Cat people…don't even think about it!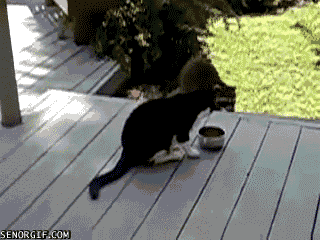 7. Playtime is always fun when you have a dog!
8. But for those with cats… playtime often turns into a war zone.
9. Dog people don't care if they're single because nobody loves them like their dog does.
10. On the other hand, being alone for the rest of your life is a scary prospect for the cat person…
11. Dog people are loyal, and expect others to be loyal in return.
12. Cat people are sneaky and will stab you in the back whenever they get the chance.
13. Sleep time for a dog person is a shared blissful experience.
14. But a cat person will be lucky if they even get on the bed.
15. Dog people receive a warm welcome when they walk through the door.
16. Yet the moment a cat person comes home, the cat goes AWOL.
17. Dog people can sometimes feel suffocated by their canine friend.
18. While cat people are grateful for any bit of attention they receive.
19. But despite all of their differences, dog people and cat people have learned to live in harmony.
20. That is, until their pets finally meet each other.