Tumblr users have a way cutting straight to the point, and here of fifteen of the best examples!
1. When someone didn't quite understand how to play the game.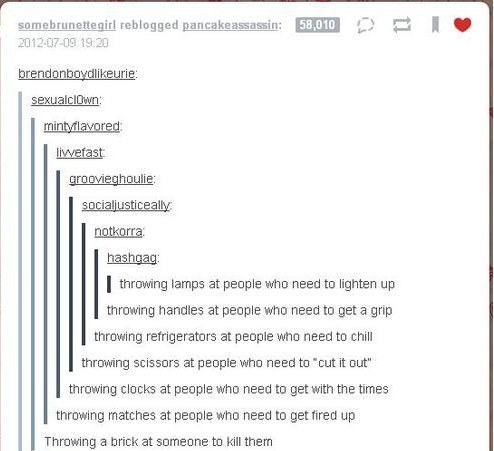 2. When this person tried to describe what school is REALLY like.
3. When Tumblr was mistaken for a confession booth.
4. This comic strip.
5. When Tumblr had a strange way of getting the truth out of people.
6. When somebody didn't take Kool-Aid seriously.
7. This French translation book.
8. When a vegetarian realized using Tumblr to get their message across was a seriously bad mistake.
8. When this horse wasn't in the mood for a selfie.
9. When this person didn't hold back on sharing their favourite sounds.
10. When "never stop pushing yourself" is taken way too literally.
11. When proposals weren't what they used to be.
12. Oh, the imagery!
12. When Digimon showed Pokemon how evolution was REALLY done.
13. Poor Carol.
14. This terrifying Google search.
15. When this woman had a rough day.