Meet Mahle, the three legged husky who got into the Halloween spirit by dressing up as a pirate with a wooden leg. This adorable image went viral after owner Kelsey Dyer posted it on Reddit.
But Mahle isn't the only dog to embrace the Day of the Dead this year! Let's take a look at some of the other contenders:
Star Claws
Fat Cat went as Purrincess Leia this October. She travelled through time and space, lead the Rebel Alliance to victory and defeated the Galactic Empire… but still freaks out over the vacuum cleaner.
Bumble-Pig
Nibbles the guinea pig was always born to "bee" wild, which is why he decided to dress as a honey bee this year. He may look adorable, but you'd better not get too close to his stinger!
Sunflower Pup
A cute chihuahua dressed as a bright yellow sunflower was spotted at El Olivar Park in San Isidro, Lima at the the Pet's Halloween Day parade. Let's hope Nibbles the guinea pig doesn't bump into him…
"Rockin" Dog
Dwayne Johnson, aka The Rock, noticed this cute little doggy on Instagam, who replicated his famous 90s photoshoot, complete with turtleneck, chain, and fanny pack. One things for sure, nobody's going to be messing with this dog in the park!
New York Pizza Hamster
It's time for the infamous 'New York Pizza Rat'  to step aside and make room for this little fellow! The hamster featured in a Halloween video that went viral on YouTube last week! He's certainly stolen a 'pizza' our hearts.
Superdog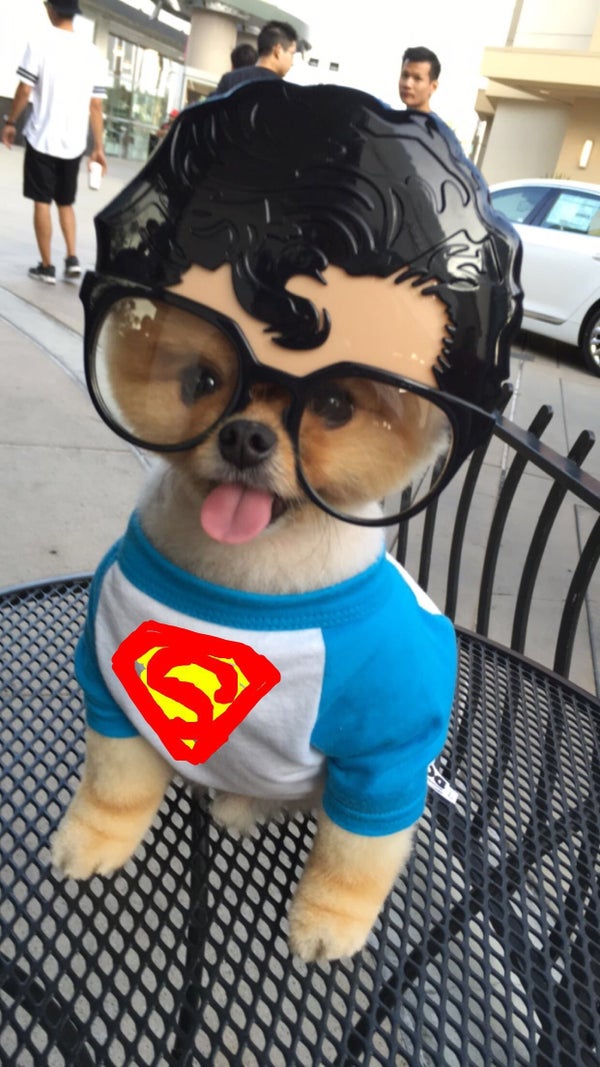 Is it a bird? Is it a plane? No…it's Jiff the Pomeranian, aka Bark Kent, aka Superdog! We're sure he's been very busy fighting off all the werewolves and black cats this Hallow's Eve.
Harry Hopper
This rabbit finally escaped the magician's hat and boarded the train to Hopwarts! Finally, all those girls who stick a pair of bunny ears on their head can see what REAL Halloween rabbit is supposed to look like!
Devil Pug & Sugar 'Pug' Fairy
These little monsters were spotted at the Whitby Goth Weekend in the United Kingdom. Somethings tells us these pugs didn't ask to be dressed up this Halloween.
And Ring-O Was Him Name-O
It's spooky how a wig can turn a dog into a thing of nightmares. This simple 'costume' was inspired by the creepy girl 'Samara' from the 2002 movie The Ring.
Dog-Cat
This pooch couldn't think of anything scarier to go as this Halloween than his arch-nemesis, the cat!
Cat-Dog
This cat wears the hotdog better than a Dachshund ever could!