Many artists gain their reputation by adding a shock factor to their work, but sometimes nobody can be prepared for what they'll encounter when they walk into a gallery! We have managed to scour the net for the eight most eccentric exhibitions on the planet. Which one would you like to visit the most?
1. Glow in the Dark Art
In the 2014, the 56 Bogart Street Gallery in New York City introduced "Nightlight", a glow-in-the-dark exhibition. In normal lighting, the paintings looked appeared to be pretty pastel illustrations, but when the room went dark the paintings reacted to the change in light took on an celestial form. Now viewers were faced with captivating galaxies and oceanic scenes.
Nightlight in normal lighting.
Nightlight in the dark.
2. Underwater Museum
Just off the coast of Lanzarote, lies Europe's first undersea sculpture museum created by artist Jason deCaires in early 2016. The exhibition is said to represent a 'drowned world'. One of the carvings, a sunken lifeboat, reflects the current migrant crisis in Europe, while others take on different serious issues such as climate change.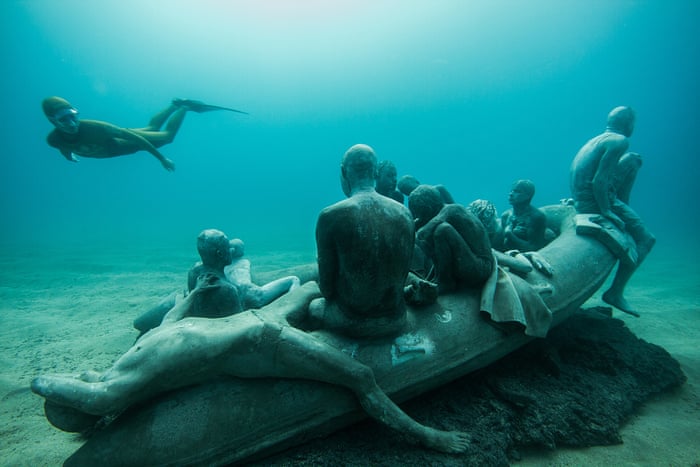 3. Ice Exhibit
In 2014, Singapore hosted the world's largest ice exhibit at Marina Bay called the 2 Degree Ice Art showcase. It featured a mesmerizing display of ice sculptures ranging from famous landmarks to frozen giant ice slide. The sculptures were kept below zero degrees Celsius which meant that viewers had to be provided with thick thermal clothing.
4. The Underbelly Project
There is an abandoned subway station in New York City that artists have turned into an art gallery known as 'The Underbelly Project'. The project is so secretive that the public aren't even allowed to access it – it lies four storeys underground and getting to it involves breaking the law)!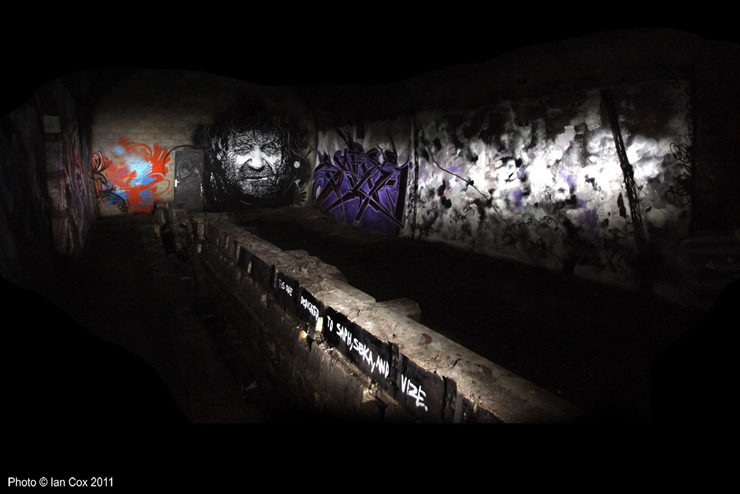 5. Dismaland
In 2015, unidentified English graffiti artist, Banksy, opened the Dismaland project in Weston-super-Mare, a satirical take on Disneyland. It featured warped versions of Disney icons which illustrated the negative effects of corporate consumerism, and a polluted society. Banksy and team specifically stated that the exhibition was not made for children.
6. Art onTrack
Every year in Chicago, a six-carriage CTA train is offered to a budding artist for them to transform it into their own exhibition. The train remains mobile during the showcase as it loops around a track so that spectators can experience 'art in motion'. Previous installations have included a nature-inspired exhibit and a carriage filled with blue balloons.
7. Nashville's Smallest Art Gallery
It may be just a 27″x 37″ display case in a store window but Nashville's Smallest Art Gallery has gained a wide reputation since it's debut in 2008. Artists from all over America apply to have their work sampled in the gallery, which is open 365 days a year. Obviously there is a size restriction on the types of art that can be submitted.
8. Bosnian Nuclear Bunker
In 2010, a Bosnian nuclear bunker, built by Marshal Tito, that was once used to shelter communist Yugoslavian's was turned into an art museum. The bunker was kept a secret for years, but now some of the world's most talented artists are trying to get their work showcased in one of the most eerie galleries in the world.