We know them for their roles in public eye, but these rare black and white photos give us a unique insight into the lives of the world's most famous celebrities before they made a name for themselves.
1. Oprah Winfrey
Taken from Oprah's East Nashville High School Yearbook in 1971 when she was just 17 years old. A year later she secured a job as an anchor for a local news station, and from then on her career continued to bloom.
2. Bob Marley
Robert Nesta Marley as a young schoolboy in the 1950s. He would have been attending Stepney Primary School in Saint Ann at the time, and would record his first songs about 10 years after this photograph was taken.
3. Lady Gaga
Known then as Stefani Germanotta, Gaga was raised in a strict Roman Catholic family in the Upper West Side of Manhattan. She began playing the piano at the tender age of four.
4. Tom Hanks
In the 1960s, Hanks was a geeky child who was "horribly, painfully, terribly shy", but he enjoyed acting in school plays. He went on to study theater and interned at the  Great Lakes Theater Festival for three years.
5. David Bowie
In 1966, David Robert Jones, aged 19, was playing guitar at local weddings and youth gatherings. Three years later he would write smash hit 'Space Oddity' to coincide with the first lunar landing.
6. Julie Andrews
Dame Julie Andrews used to sing opera when she was a little girl as she was told by her doctor she had an 'almost adult larynx'. In the end, Julie found it to be too much of a strain on her voice and decided acting in musical theatre was more suitable.
7. Alan Rickman
In 1964 Rickman graduated from Latymer Upper School where he took part in many school plays. He didn't return to acting until he was 26 years old, where he enrolled at the Royal Academy of Dramatic Art in London.
8. Aretha Franklin
One of Aretha's first portraits at Columbia Records, where she was signed in 1960. Her success didn't come until 1967 when she signed to Atlantic Records. It was there she took the world by storm with her powerful soul voice.
9. Morrissey
Steven Patrick Morrissey didn't have an easy youth. He was repeatedly bullied at school which made him become deeply depressed. Luckily, he came out stronger and channeled those darker years into his music and lyrics.
10. Britney Spears
Before her life became a 'Circus', Ms Spears grew up in Kentwood, Louisiana where she sung at her local church and practiced dancing and gymnastics. She'd then appear on Disney's The Mickey Mouse Club with Justin Timberlake and Christina Aguilera.
11. Maggie Smith
In 1965 Maggie is 29 years old, being photographed for the TV Times, a British TV guide. She had only starred in minor roles on a few television programs at this point, but shortly after she would be nominated for an Academy Award for her role as Desdemonda in Othello. 
12. Frank Sinatra
Frank is estimated to be around 10 years old in this photo, which makes it clear he had his style long before he became a megastar! At this point he would have been listening to big band jazz records in his New Jersey home and idolizing Bing Crosby.
13. Whitney Houston
Taken in the 1970s, when Whitney performed as a soloist in a junior gospel choir at New Hope Baptist Church in Newark. She was taught to sing by her mother, Cissy, who was also a gospel singer.
14. Elvis Presley
In 1939, Elvis was just four years old and living in Mississippi with his family. It was at their local Assembly of God he became inspired by music and started to perform at his school and in local singing contests.
15. Meryl Streep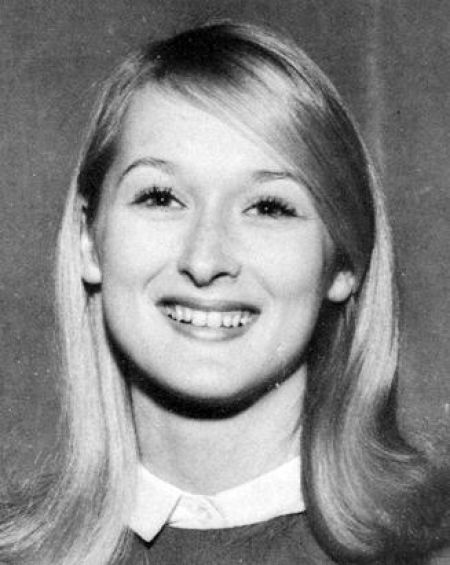 In 1966, Meryl was a high school senior in Bernardsville, New Jersey. She was part of the cheerleading team and she regularly took part in school plays, but it wasn't until 1975 she moved to New York City and was cast in her first theater production.
16. Samuel L. Jackson
At Riverside High School in Chattanooga, 1972, Samuel played the trumpet and French horn in his school orchestra. After that he would go on to study marine biology, but switched his major to acting after he found his passion for it joining a local acting group.