Most of us go through a period of growth and change at some point in our lives, but imagine trying to find your identity in the public eye. These 11 celebrities have gone through dramatic makeovers we never saw coming – some for better, some for worse!
Taylor Momsen
Taylor looked as if butter wouldn't melt back in her teen years (left pic). The 22 year-old has been working since she was a toddler and is fondly remembered as the adorable Cindy Lou Who in How the Grinch Stole Christmas. When Taylor won a role on Gossip Girl as a teenager, she began to discover her true identity – which happened to be a badass rock chick with a killer voice! Her post-grunge band The Pretty Reckless has currently had success with two hit records, and they're now working on their next album to be released in 2016!
Miley Cyrus
Miley was known for her squeaky, girl-next-door image back in her Hannah Montana days, but it was only when she was released from Disney's shackles, she began to express her true self. In August 2012, she ditched her long locks for a short, bleach-blonde spiky do, which shocked many of her young fans. After that, she began to display a series of wild antics, such as "twerking" on stage in a skimpy skin-coloured outfit at the 2013 VMAs, and starring in her music video 'Wrecking Ball' completely naked!
Matthew Lewis
As the underdog of the Harry Potter universe, Matthew Lewis didn't exactly steal the limelight at red carpet events. But once his teens kicked in, something went very right for the actor, who is now 26 years old. It is not know whether he has had work done on his teeth, or if a brace sorted them out, but whatever the case, it's clear Matthew has put his 'dorky' Neville Longbottom days behind him!
Heidi Pratt
Heidi didn't just change her last name when she married her Hills co-star Spencer Pratt – she also altered her entire face! Mrs. Pratt (nee Montag) publicly admits she had 10 plastic surgery treatments in one day; including a brow lift, nose job, chin shaving, and breast enlargements. Unfortunately, many feel it has left her looking rather plastic and, dare we say, older than 29! It is a shame she couldn't see the natural beauty she possessed before her insecurities set in.
Caitlyn Jenner
Maybe we did see this one coming, but we didn't anticipate the impact it was going to have on the world. When Bruce Jenner 'came out' as a trans woman in April 2015, she broke the record for the fastest time to reach one million Twitter followers. She also won Glamour's 'Woman of the Year' award and has been praised for her courage and her contribution to fighting the stigma against people who are transgender. She has currently undergone several face surgeries, which has given her an effeminate look.
Lil' Kim
The 41 year-old rapper caused much speculation in early 2013 when she re-emerged into the public eye with a completely unrecognizable face! It is clear Kim has had a nose job, face lift and cheek implants, amongst other surgical procedures. There are even reports that she has been bleaching her skin to make her appear less African-American – a very sad thought indeed. The most bizarre part of it is, she still denies she has ever had plastic surgery! Come on, Kim! What do you take us for?
Tulisa
Back in her N-Dubz days, Tulisa was fresh-faced and fabulous, but somewhere down the line she lost her sparkle. She's only 27, but she's been getting a filler in her cheeks and lips for several years, and told talk show host Jonathan Ross that cosmetic procedures make her happy! These days she's often seen with a somber pout, and in 2014 she got in trouble with the law for brokering a cocaine deal. So how happy can she really be?
Renee Zellwegger
The tabloids had a field day back in October 2014, when Renee Zellwegger emerged with a curious new look. Her face and eyes looks as if they were a completely different shape, which led many to suspect she had undergone cosmetic surgery (or at least Botox and an eye-lift). Renee denied the rumours and insisted that she had just been keeping herself healthy. One thing that is clear, is that she has indeed shed a lot of weight, which may or may not be the sole reason for her drastic change in appearance.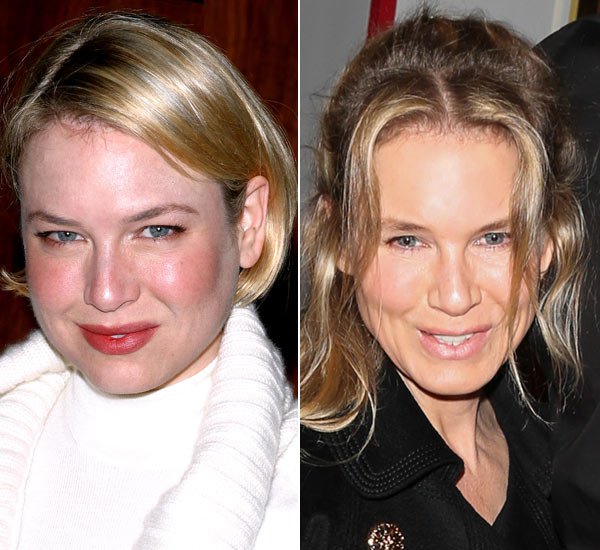 50 Cent
Curtis Jackson has been through quite a few transformations in his lifetime. He began selling drugs at the tender age of twelve, but gave it up to pursue a music career. During this time, he was known for his many tattoos, gold jewelry and muscular body, which accompanied his hip hop albums. These days, he is barely recognizable, having lost four stone and removed many of his tattoos in order to gain more film roles!
Kylie Jenner
There isn't a person alive on this Earth who doesn't know about 18 year-old Kylie Jenner and her famous lips. But many would agree that there was really no need to go through such an extreme change at such a young age. Kylie had a look that was all her own before she injected herself with fillers. Now it seems, she's just another Kim Kardashian clone who is as fake as her collection of wigs. Since she's so young, we're hoping Kylie will eventually undergo another transformation that will be a little more natural.
Jennifer Hudson
While Jennifer Hudson has always been a much-loved singer and actress, she was secretly struggling with weight issues for many years. After changing her eating habits and committing to a healthy diet, she managed to achieve her goal weight. In 2010, she revealed to her fans that she had lost a whopping 80lbs! Amazingly, she has managed to keep the weight off ever since!